All about Sony PRS-T1 and Sony PRS-T2 Electronic Books and more
---
t1-reader.cipds.ru
How to install applications on Sony PRS-T1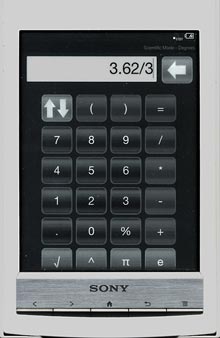 Calculator installed
on Sony PRS-T1
Sony PRS-T1 Electronic Reader is running the Android operating system version 2.1.1, modified by Sony. That means that the programs developed for Android can be safely installed on device. In this sense, PRS-T1 Reader is not much different from conventional tablet.
Before we start a story about how to install the program, let's make some remarks. Not all of the programs can be properly working on devices with a display performed on the technology of electronic ink (e-ink) because of its slowness (Screen refresh rate is about 1) and very low contrast (approximately 1:10). It is unlikely that you will be able to install and run, say, a video player. Programs that require specific hardware support also can not be correctly installed and will not work. Examples are applications that work with GSM/3G module or GPS navigation programs. Also a number of other programs, for example, Opera Mini refuses to start on the reader for unknown reasons. What exactly would you have to work, and what do not have to - is difficult to predict. You have to make experiments (it is desirable if you get the emergency recovery software, in case the program destroys the system partition, see below). Another important point - the size of the partition for programs installed (
DATA
), is very small, about 40 MB, so the large programs (as well as too many small programs) could not be installed. There are ways to transfer applications from the main memory to the micro SD card, this will be discussed below.
One should know the most important thing. Manufacturer of electronic reader does not initially involve the instruments for installation of additional applications on your device. Fortunately, there is a handy tool which removes this limitation. But this limitation can be removed only for devices intended for sale in the U.S., Canada and Europe. Devices designed for Russian and Ukrainian markets (firmware numbers
1.0.00.11041
or
2.0.00.14070
), do not support the software installation possibility at the time of this writing. The break for this type of devices is still not possible. Everything else in this article refers to the "American" readers, having firmware version
1.0.00.09010
,
1.0.00.09270
,
1.0.02.10280
,
1.0.03.11140
or
1.0.04.12210
.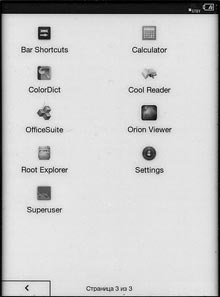 The Home screen, page 3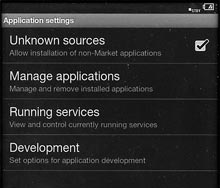 Unknown sources checkbox
Customers who already have experience installing applications for Android, is unlikely to find useful information for themselves from further instructions. What is written on, designed mainly for those who are going do it for the first time.
The application installation package for Android is a single file with
.apk
extension. To install the program, you have to copy the file to the device (usually to the root folder of volume
READER
), and then find it with a file manager (folder
READER
- from the device point of view is
/mnt/sdcard
) and run installation file. You should allow a application to be installed by checking the box "Unknown sources" (this allows installations of non-Market applications). Go
Settings
and choose
Applications
for this.
To get the file manager and
Settings
application installed on your device you have to flash the device with some alternative firmware. The first step is to update the factory firmware to the latest version (whether you have not done so). At the time of writing this article the latest version is
1.0.04.12210
). If you do not have access to the file manager and
Settings
, you need to install an alternative suite of applications, for example,
The absolutely minimal root
by
rupor
or
PRS-T1 Flasher minimal
by
amutin
. By the way, the last link has other interesting packages, for example,
PRS-T1 Flasher standard
and
PRS-T1 Flasher APP
, that allow to install programs at the time you install an alternative package. The link also gives the necessary instructions.
It is good to
download
the packages
PRS-T1 Flasher recovery 1.0.04.12210
and
PRS-T1 SD UPDATER 1.0.04.12210
beforehand. These packages may be needed for recovery in case when suddenly, after installing some applications the device will refuse to turn on, off, hang up, go away in a constant reboot or behave incorrectly in some other way. It's desirable to get the blank micro SD card with 2 to 32 GB capacity. The instructions on how to use these packages can be found at the above link.
Then everything is simple. Suppose you installed
PRS-T1 Flasher minimal
by
amutin
. Copy the installation
.apk
file to your device with USB cable to the
READER
root folder. Disconnect the USB cable. Go to the page 3 of the
Home
screen and run the application
Settings
. Select
Applications
. Set the checkbox
Unknown sources
(Allow installations of non-Market applications). Click
Home
button, go back to the third page and run the application
Root Explorer
(of other file manager). Locate the folder
sdcard
(
/mnt/sdcard
), and your setup file. Tap on the file and select
Install
. Program will be immediately installed. Then you can delete a setup file with your file manager: make a long tap and select
Delete
. Again, go to
Settings
and uncheck
Unknown sources
box. That's it! Now you can run your installed program by tapping on the label with its name on the
Home
screen page 3. If you have
Bar Shortcuts
installed (if not - you can do it yourself, you already know how) you can make shortcuts to your programs for easy display of them in the list that opens when you tap the top line, available in most applications.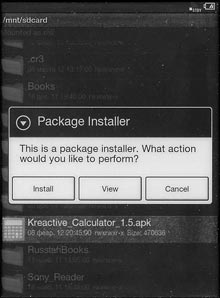 Software installation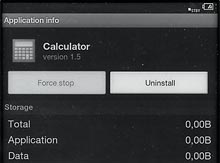 Uninstalling the program
How do I uninstall a program? It's easy. Go to
Settings
, then chose
Applications
, then chose
Manage applications
, make a long tap on the name of the program you want to delete and select
Uninstall
.
People often ask how to add fonts to
Cool Reader
application. It's very easy. Connect your Reader to the computer, open the drive
READER
and create a folder
fonts
in the root directory (if it is not already there). Next, copy your favorite fonts to this folder. Font file format is
.ttf
or
.otf
(in this case the file extension must be changed to
.ttf
). Run
Cool Reader
and you will see the fonts in font selection menu, including those added by you.
As mentioned above, the system folder (e.g.,
DATA
folder, which holds the most of applications) has very limited in size, about 40 MB. After you install another application the prompt "Low on space" or "Not enough space" may appear on the screen. In this case, remove unnecessary programs.
At the moment there are two ways to "expand" memory. The first method is based on use of the
Link2Sd
application, and allows you to transfer installed applications to the micro SD card. This method is quite moody: not all applications allow you to move its code to an external drive. In addition, after installing
Link2Sd
you will have to remove or insert the card only when the Reader is completely switched off, because of risk to destroy the software packages.
Step by step description of this method is got from the
manual
:
To expand the internal memory of Sony T1 download the program
Link2Sd
. Next:
1. Divide the micro SD into two partitions: the primary partition Fat32 and also the primary partition ext3 or ext4 (which size may be about 500 MB). On Windows, this can be done with MiniTool Partition Wizard.
2. Insert the micro SD card into the reader, install Link2Sd and run.
3. A pop-up window asks for the superuser Link2Sd - allow.
4. Then follow the program prompts: choose the format of the ext partition created, restart the reader.
5. After restart open Link2Sd application and move your applications to an external disk. Important: the "Move to Card SD" item is not working! You have to choose the "Link"! You can specify that the new software automatically will be installed on the external card SD in the settings menu.
The other way to memory extend appeared as mid-March 2012. The method is based on changes in the Sony PRS-T1 firmware, restoring the feature that the manufacturer locked. Flashing the
rupor
package named
Apps2SD
, you can make the software installation to SDCARD volume possible. Also there is a package to roll back the state of the device to its original state, its name -
All back!
All the instructions, illustrations and download packages
Apps2SD
and
All back!
can be downloaded from
here
. Problems associated with using this of method of memory expansion has not yet been identified. After you install any program you can go to the menu Settings, select the application and specify a standard means of Android "Move to a memory card." Specially prepared and partitioned external card is not required. Usually the SDCARD volume is free up to 1.4 GB which is enough for any conceivable set of applications of quite large sizes.
Where can you get software to install on an electronic reader Sony PRS-T1? Usually there is no problem with this. You can, for example, download from the developer. A huge collection of programs with descriptions is collected on
4PDA
site, section
The catalog of Android OS programs
. To download an application, you must register at the site first. This usually takes no more than three minutes.
Tell us (through the form under this article or by e-mail
prs-t1@yandex.ru
), which applications you were lucky to install and run, and which was not. Tell us what problems or issues you have with this. We will make attempts to answer your questions.
Gavriil Chitalkin, 2012/09/03,
text last updated 2012/05/09.
Notice
: Use of undefined constant yday - assumed 'yday' in
/home/cipds/t1-reader.ru/docs/en/inc/voprosy_form.php
on line
26